22.12.16
Dear Friends
At Christmas time we would like to wish you all  happiness and joy and  say a big Thank You for all your help and kind generosity over the years  which has helped us to build "The Community Home for Adults with Autism" in Gdansk named after Aram Rybicki.
We are delighted to inform you that this much awaited home was officially opened on the 14th December 2016. Photographs of the event can be viewed on our facebook page and on our website.
Once again thank you.
A Happy Christmas and  New Year from all of us at "Help People with Autism in Poland"
Anna Mlynik-Shawcross, Chair
Ewa Cwirko Godycka
Wanda Koscia
Wiktor Moszczynski
Kasia Thurlow
18.12.16
Photographs of the Opening
19.7
We are very grateful to Volare for donating the proceeds of their musical evening in POSK to HPAP. the grand total that we received was £3257. It was an excellent evening of entertainment, enjoyed by all.
7.5.2016
Mamy świetną wiadomość! 18 czerwca zespół Volare zaprasza do teatru POSK na wieczór muzyczny pt. "Żadna praca nie hańbi" . Ćałkowity dochód z koncertu wspaniałomyślnie przeznacza na rzecz HPAP i budowy Domu im. Arama Rybickiego. Szczegóły na plakacie.
11.4.2016
The Charity Concert organised by Help People with Autism in Poland at the fabulous White House venue on the 9th April was a great success. The Polish pianist and composer Janusz Kohut gave an excellent concert enjoyed by all people present. The event raised £2,279.55.
Thank you to all who attended the concert and those helped to organise it. Thank you to Ania Gonta for helping us to invite the wonderful pianist Janusz Kohut. Thank you to Prince Jan Zylinski for enabling us to hold the concert at The White House.
Thank you to our sponsors: Lidia Lazicka from "FINANSPOL Ksiegowosc Doradztwo Podatkowe", Mariusz Wozniak from "ADVENA Business Services Ltd", Arek Marczewski from "AM Construction", Krzysztof Mrawiec and Radoslaw Ziegler from "ANT Builders Merchants Ltd", Ryszard Sperka from "Greenpol Ltd" and Pawel Kalbarczyk from "My Medyk".
Many thanks to all who donated prizes for raffle: "Ognisko Polskie Restaurant", "Play Media Distribution", Polish shops in Portsmouth; "Maya Delicatessen", "Fajny Sklep", "Jagoda". Also, thank you to SPOA for providing lovely jewellery made by young autistic adults in Gdansk.
Huge thank you to: Ilona Gorczyca from "Delight-Wedlinka" in Willdsden for providing food for an elegant buffet prepared by "Chez Janette Catering",  Malgorzata Pogodzik from "Gosia's Cake Ltd" for a beautiful tort for and delicious cakes and to Dariusz Klinowski from"Twelve Grains Polish Bakery" for mouthwatering cheesecake.
Finally, thank you to our volunteers: Maja, Olivia, Jon and Michal for helping and looking after our guests.
All YOUR SUPPORT IS GREATLY APPRECIATED!
24.3.2016
Poster for the artist for the event on the 9th April 2016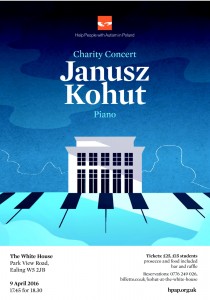 15.3.2016
Help People with Autism in Poland  cordially invites you to a Charity Concert with the internationally acclaimed pianist and composer Janusz Kohut at the spectacular White House in Ealing, London.
Tickets at £25 are available via: https://billetto.co.uk/kohut-at-the-white-house
Telephone reservations also available: 0776249026
Doors open at 17.45. Concert starts at 18.30, buffet served at 20.30.
Welcome drink and a buffet are included in the price.
Also in the programme: raffle with fabulous prizes.
Bar with wine, beer and soft drinks available at the venue.
All proceeds from the event go towards the building of a Community Home for Adults with Autism named after Aram Rybicki in Gdansk,Poland.
The White House where the concert will take place.
1.3.2016
A recent photograph of the Home being built in Gdansk, partly funded by the generous contributions to the charity "Help People with Autism in Poland".
20.2.2016
A Charity Dinner for HPAP was held by Wanda Koscia and Nina Ozols. A total of £415 was raised. Many thanks to Wanda and Nina.
16.12.2015
We wish all our friends and supporters Merry Christmas and a Happy New Year, may it bring happiness and joy to all of you! We thank you for your support from the bottom of our hearts!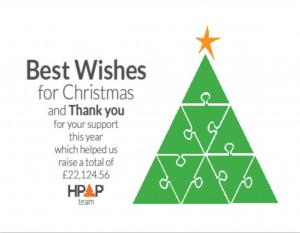 14.11.2015   The Concert held  last night was a great "SOLD OUT" success. Many thanks to the artists for their generosity and wonderful performances. Also thanks to Ognisko Polskie for their support and offering us a great and fitting venue for such a wonderful concert about the life of Chopin. Thank you to all who attended and generously supported our charity. Over £2,562.50 was raised.
12.11.2015
A very special thank you to Mrs Anna Sclar, for her very generous donations to HPAP, including £2000 offered last year and numerous other donations received this year through our fundraising platform on  MyDonate. Mrs Sclar has chosen to support our charity in the honour of her sister whose daughter suffers from autism. We are very grateful and appreciative of her support.
12.10.2015 – Please come and enjoy an evening of music and drama on Friday, 13 November 2015 and help us raise funds to build a Community Home for Adults with Autism in Gdansk.
CONCERT in aid of "HELP PEOPLE WITH AUTISM IN POLAND"
Nocturne – The Romantic Life of Frederic Chopin
Lucy Parham, piano, with readings by Rula Lenska & Lloyd Owen
Friday, 13 November 2015 @ 19.30
This special event will take place in Ognisko Polskie (Polish Hearth Club):
55 Exhibition Road,
South Kensington,
London, SW7 2PN
It is the story of the tender, but volatile relationship between Frederic Chopin and the novelist George Sand and is told through extracts from their letters and diaries, counterpointed with some of the composer's best-loved music.
"Lucy Parham's trailblazing evening concerts in which she fuses music and words with the help of some of our most distinguished thespians, have become one of the must-see events on the musical calendar."
BBC Music Magazine April 2014
Tickets: £20 adults, £10 under 16 and students
Tickets can be bought on the door or online: www.ogniskopolskie.org.uk
Please note: ALL funds raised from the ticket sales will be donated to aid our charitable cause!
We at HPAP are extremely grateful to everyone who is making this event possible and successful.
LUCY PARHAM
Acknowledged as one of Britain's finest pianists, Lucy Parham applies her sensitivity and imagination not only to concertos and recitals, but also to portraits in words and music of such composers as Schumann, Chopin, Liszt and Debussy.
RULA LENSKA
Needs no introduction to the Ognisko audience – celebrated actress of TV, stage and cinema, star of TV series "Rock Follies" and "Take a Letter" http://www.rulalenska.co.uk
LLOYD OWEN
Shakespearean stage and TV actor, husband of Beatrix Potter in popular film "Miss Potter"
https://en.wikipedia.org/wiki/Lloyd_Owen
Photographs of our artists as well as more information about the building project can be supplied on request.
Please contact:  ANNA MLYNIK-SHAWCROSS on anim22@hotmail.com
10.10.2015
Just despatched from London to Gdansk: one very large painting, donated by British filmmaker, Roger Mills who bought it from Jan Wieliczko back in the 1980s in aid of Solidarity.
Now it will be raising funds to help people with autism in Gdansk!  The chain of solidarity continues. Thank you Roger!
18th May 2015
Anna Mlynik- Shawcross, on behalf of HPAP,  attended a ceremony in Gdansk arranged by SPOA to mark the £18,375.00 donation that HPAP has helped to raise in support of the Community Home for Autistic Adults in Gdansk named after Arkadiusz "Aram" Rybicki.
The ceremony was recorded on the Pomorska TV channel. Film of the event.
18.04.2015
We are pleased to confirm that the money raised during the Polish Ball held on 31st January 2015 in London raised £9,500.00 to support our cause. Big THANK YOU to "Bal Polski" organizers and sponsors!
2.04.2015 – World Autism Awareness Day
To mark World Autism Awareness Day on 2 April, we are asking all our friends to donate £2, and to then ask ten of their friends to do the same. To donate with Gift Aid please click the button below!
In Gdansk, they know the meaning of Solidarity. When thousands of people of good will, each give a token sum, what seems unachievable can be achieved.
Thanks for your support!
11.3.2015
Big thank you to Polish Solidarity Campaign former members who raised £380 during the charity dinner in aid of Help People with Autism in Poland. Special thanks to Nina Ozols for helping to organize the event!
5.2.2015
The 44th Polish Ball was held on Saturday 31st January 2015, at The Savoy, London, under the patronage of H. E. Ambassador Extraordinary and Plenipotentiary of the Republic of Poland to the Court of St. James's Mr. Witold Sobków and Mrs Karolina Kaczorowska, the wife of the late President of Poland Mr. Ryszard Kaczorowski.
The Polish Ball is a well established charity event, run in association with the Federation of Poles in Great Britain,
This year the Polish Ball Organising Committee chose our charity "Help People with Autism in Poland", alongside "Alzheimer's Society" to be the beneficiary of the funds raised during the 44th Polish Ball.
The 44th Polish Ball was a great success and wonderful time was had by all in the beautiful surroundings of the Ballroom of the Savoy Hotel. There was excellent food, traditional dancing, a great band and money raised money for two great causes!
We would like to offer our sincere thank you to the Polish Ball Organisers and Sponsors as well as everybody who generously contributed to our cause of building the community home for adults with autism in Gdansk, Big Thank to You All!
A few photos from last night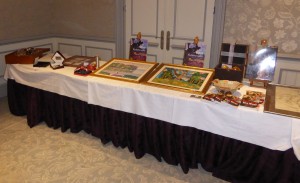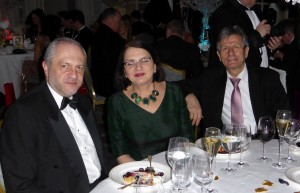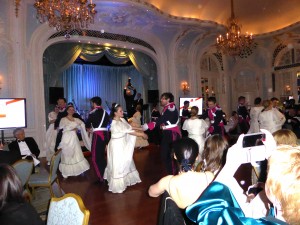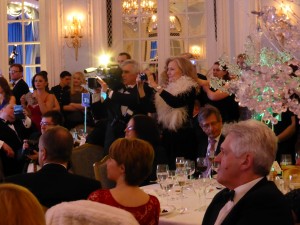 04.02.2015
There was a great evening at the Polish Centre known as POSK on Friday the 30th December 2015 in London.
A big "Thank You" to the audience who came on a cold winter's evening to watch a film about the moving story of Aram Rybicki, who played a prominent part in Solidarity and post communist Poland. The film was followed by a Question and Answer session with Malgorzata Rybicka the wife of the late Aram. This was a lively and informative session and included her views on the services for Autism in Poland and the work of SPOA, including the building of Community Home that we are supporting and raising the funds for. The Q&A session was expertly chaired by Wiktor Moszczynski with Wanda Koscia acting as translator for Malgorzata. The meeting ended with thanks from the HPAP Chair, Ania Mlynik-Shawcross to POSK for allowing us to use their facilities for free, the Producer of the film for allowing us to screen this film also without cost and an appeal for donations from the audience. A generous amount of money was raised from this event and all of it has already been banked, bringing total donations to our Charity now to well over £5,000
Wiktor Moszczynski introduces the meeting
Malgorzata Rybicki with Wiktor and Wanda at the Q&A session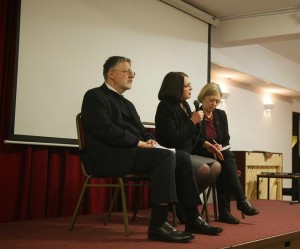 30/01/2015 Film screening!
We are very happy to announce that the first UK screening of the documentary film about Aram Rybicki – patron of the First Community Home for Autistic Adults in Poland – will take place in POSK London on the 30th of January. Details are on the poster which you can find on our facebook page here.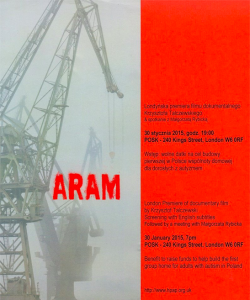 09/09/2014 – HPAP is making the news!
We are very proud to say that our charity is featured in this week's Magazyn PL, an online newspaper for Polish people living in the UK. Click here for the full article.
07/09/2014 – Successfully raised £119.20!
Thank you to all those who helped out at our car boot sale on Sunday 7th September – we raised a very decent £119.20, bringing our total current funds to £5199.20.
12/08/2014 – Car Boot Sale!
We're having a car boot sale on September 7th in Portsmouth to raise further funds for our cause. We would greatly appreciate if you could help us and donate any good quality unwanted items like books, toys, small electronic items, brick and brac- anything (not too big) that you don't want anymore and we can sell and raise more money for our cause. We will be happy to collect it from you within Portsmouth area. Please contact us here or call Anna on 07713389339.
05/07/2014 – A Ball is announced!
We are extremely proud to announce that our charity has been chosen as one of two charities to receive funds that will be raised at the 44th Polish Ball (Bal Polski) that will take place at the Savoy Hotel in London on the 31st January 2015.
04/07/2014 – July concert a success!
The Concert held in Portsmouth on July 3rd in the name of HPAP was a resounding success, with a whopping £930 raised!!!! Thank you so much to everyone who bought the tickets and attended the concert. We all had a lovely time and enjoyed the music played by the wonderful Goldberg Strings, who gave a truly memorable performance.
For photos of the event, click here.